Details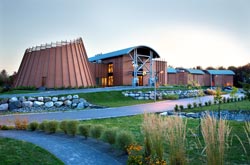 Are you looking for somewhere surrounded by nature, a unique and authentic place to stay during your trip to Quebec?
First Nations Hotel-Museum is just the place for you. With its architecture influenced by the longhouses built by the Huron people, this 4-star hotel offers an accommodation experience unlike any other.
The hotel is located on the Akiawenrahk River in the heart of the Wendake Reserve, less than a 25-minute drive from Old Quebec. With its mission to teach and popularize Huron Wendat culture, the hotel/museum offers guests an ambiance that is truly unique. The décor is inspired by nature and by the customs and legends of the Huron people, while the gourmet restaurant offers a menu inspired by the culinary traditions of Quebec's First Nations.
We suggest you spend at least one night at this hotel. You will go home from your Canadian vacation with the impression of having reconnected with the culture, traditions and way of life of Quebec's First Nations.
Kwe kwe! (Welcome!)
For the ultimate in comfort...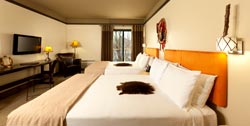 The hotel has 55 rooms, each of which offers a contemporary decor in which quality materials such as stone, leather and wood are combined with outstanding architecture.

In addition, the hotel's "boutique" concept allows you to purchase the unique arts and crafts by Wendake and other First Nations' artists that can be seen decorating the establishment.
ROOMS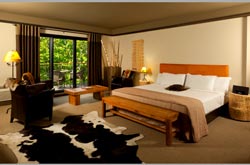 Non-smoking
High-speed wireless Internet
Air conditioning
Coffee/tea corner
Small refrigerator
Alarm clock-radio
Private bathroom
Hair dryer
Telephone
Television
AMENITIES
Elevator
Bar
Spa
Beverage dispensers on each floor
Indoor fireplace
Babysitting
Daily housekeeping
Baby cribs - subject to availability
Rollaway beds subject to availability ($)
La Traite restaurant is
: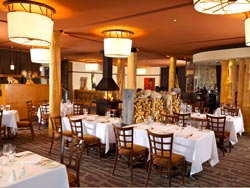 Dishes inspired by First Nations gastronomy, skilfully prepared with the fruits of hunting, fishing and gathering;

An exclusive menu reflecting the passion of Executive Chef Martin Gagné;

A terrace adding the charms of nature to the pleasures of good food;

A private lounge, where guests can enjoy their exceptional meal in privacy;

A warm, cozy atmosphere whose nature-inspired décor helps make every meal a pleasure for all the senses .