When to visit
Very Favourable
Favourable
Unfavourable
| Jan | Feb | Mar | Apr | May | Jun | Jul | Aug | Sep | Oct | Nov | Dec |
| --- | --- | --- | --- | --- | --- | --- | --- | --- | --- | --- | --- |
| | | | | | | | | | | | |
What to do
Noteworthy
Worth the detour
Must see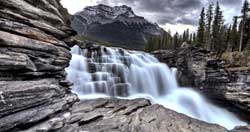 Jasper National Park is the largest park in the Canadian Rockies and boasts more than 1,200 kilometres of hiking trails. Created in 1907, it is also one of the oldest parks in Canada.
With its large population of wildlife including elk, bighorn sheep, deer and grizzly bears, Jasper National Park is one of the last large Rocky Mountain ecosystems where wildlife can be seen.
Jasper National Park
Season: Open year-round, 24 hours a day.
Entry fee (2018 prices): $9.80/day/adult and free for youth 17 and under. An annual Parks Canada Discovery Pass is $67.70/adult.
Visitor Centres: The Jasper Information Centre National Historic Site (500 Connaught Drive, Jasper) is open daily in 2018, May 17-June 13 and Sept. 27-Oct. 10 from 9 a.m. to 7 p.m., from June 14-Sept. 26 from 8 a.m. to 8 p.m., and in low season from 9 a.m to 5 p.m. The Parks Canada Information desk at the Icefields Centre (103 km south of Jasper on Highway 93) is open daily from May 4-16, 2018 from 10:30 a.m. to 3:30 p.m. and May 17-Sept. 30, 2018 from 10 a.m. to 5 p.m.
* Note that Cavell Road (leading to Mount Edith Cavell) and the section of Highway 93A from just south of Wabasso Campground to Geraldine Road were closed to traffic in 2018. Both roads should be reopened as of June 15, 2019.
Jasper Skytram
This gondola ride is fully accessible and offers some of the most stunning panoramas in the Rocky Mountains. For a truly spectacular experience , plan to be there at sunset. At the top, be sure to walk the hiking trail to the summit of Whistler's Mountain.
You will find that you are short of breath because of the high altitude (more than 2,225 metres). In 2018, open daily March 23-May 17 from 10 a.m. to 5 p.m., May 18-June 21 from 9 a.m. to 8 p.m., June 22-Sept. 3 from 8 a.m. to 9 p.m., and Sept. 4-Oct. 28 from 10 a.m. to 5 p.m.
---

Maligne Lake cruise
This 90-minute cruise will take you to Spirit Island , the most photographed island in the world. Enjoy the azure-blue waters and majestic scenery of this large glacial lake. The best light is in late afternoon. Tickets can be purchased in advance right in Jasper or on the website. It is recommended to take the cruise after 2 p.m. to avoid the crowds and to improve your chances of spotting wildlife on the return drive.
When you buy your tickets, you will have the choice between the regular 90-minute cruise and the 2-hour Premium cruise. Take the time to compare the two to choose the right option for you. Regular cruise schedule in 2018: every day from May 25-June 28 from 9:30 a.m. to 2:45 p.m., June 29-Sept. 2 from 9:30 a.m. to 4:45 p.m., and Sept. 3-Oct. 8 from 9:30 a.m. to 2:45 p.m.
---

Mount Edith Cavell
*** Note that Cavell Road (leading to Mount Edith Cavell) should be reopened to traffic from June 15, 2019.
The narrow 12-km road to Mount Edith Cavell winds through the Athabasca Valley along the Athabasca river. To get to the trailheads, go 7 km south of Jasper on Highway 93 and turn right onto Highway 93A. Travel 5.4 km and turn right onto the Cavell Road, which leads to the mountain.
* Warning, this route is unsuitable for large RVs (over 25 feet/7 metres).
A short hike (1.6 km/1 hr./moderate) at the foot of the mountain offers views of the magnificent Angel Glacier and Cavell Meadows. The Cavell Meadows trail is more demanding but offers stunning views (6-7 km/3-5 hrs./difficult).
---

Maligne Valley
Between Jasper and Maligne Lake, you have a good chance of seeing wildlife (especially black bear and bighorn sheep) close to the road. The best times for wildlife sightings are early morning and in the evening, as that is when the animals come close to the road to feed.
If you have time, go for a hike in Maligne Canyon to admire the many waterfalls that helped carve the canyon out of the surrounding limestone rock.
NEARBY

Icefields Parkway
The panoramic Icefields Parkway between Lake Louise and Jasper offers access to a vast wilderness of pristine mountain lakes, ancient glaciers and broad sweeping valleys.
You will want to stop at some of the many points of interest along the way, including:
Sunwapta Falls

Athabasca Glacier

and the Columbia Icefield
Peyto Lake

(an easy 30-minute hike leads to an exceptional viewpoint)
Bow Lake

Athabasca Falls
OTHER EXCURSIONS NEAR JASPER
• Picnic, swimming and hiking at Lake Annette:
Lake Annette, located 7 km from Jasper, is the perfect spot for families or groups to stop for a swim. Enjoy a picnic on the edge of the clear glacier-fed lake in a magical setting with a spectacular view of the Rockies. And if you want to stretch your legs, you can even take a short hike around the lake. The interpretive 2.4 km paved loop is wheelchair accessible.
• Old Fort Point Loop:
This magnificent hiking trail is a steep 3.8 km (1-2 hrs./130 m elevation gain) loop leading to stunning views of the valley, the Canadian Rockies and the town of Jasper. 2 km from Jasper.
Visit the Jasper Information Centre (500, Connaught Drive, Jasper) for more information and free brochures.
Where to eat
$ Inexpensive
$$ Moderate
$$$ Upscale
$$$$ Fine dining
Patricia Street Deli ($)
As most visitors to Jasper spend at least a few days hiking or exploring the surrounding wilderness, it seemed like a good idea to recommend this emporium of sandwiches-to-go. A favourite with locals and tourists alike.
Open daily from 10 a.m. to 5 p.m.
---

Downstream Restaurant & Lounge ($$-$$$)
This modern restaurant and lounge captures Jasper's mountain town spirit and casual feel. The fresh innovative bistro cuisine and quality service draw a great many visitors and loyal guests. Great food and a good wine list.
Open daily from 5 p.m. to 2 a.m.
---

Evil Dave's Grill ($$-$$$)
A popular casual restaurant serving creative, globally inspired fare along with specialty cocktails & wine. Dinner reservations are recommended, especially in high season. The eclectic "evil"-themed menu is sure to make you smile. The Diabolical Tenderloin is their signature dish.
Open Monday-Friday from 5 p.m. to 10 p.m. and Saturday-Sunday from 4 p.m. to 10 p.m.
Where to sleep ?
Climograph
Very Favourable
Favourable
Unfavourable
Month
Average temperature
min (°C)
Average temperature
max (°C)
Precipitations
(mm)
Overall score
January
-19
-6
27
February
-12
3
7
March
-8
4
14
April
-4
11
17
May
1
15
46
June
5
19
56
July
7
23
50
August
6
24
54
September
2
18
36
October
-2
10
26
November
9
1
28
December
14
-4
22